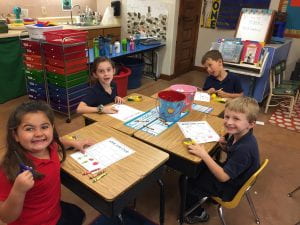 This week we extended our apple study by celebrating Johnny Appleseed and a few other American Folk Heroes. We learned about Paul Bunyan and Pecos Bill by reading stories and watching short videos about them. We talked about how to understand exaggeration in a tall tale and enjoyed giving examples of tall tales of our own- (it must have rained a million inches Tuesday) On Wednesday, we had "Apple Day", we spent the afternoon rotating through centers in both classrooms completing apple themed activities at each center. Thursday was Johnny Appleseed's birthday so we celebrated by writing facts about Johnny and then at the end of the day, we had a special treat when Adam's mom brought us homemade apple cake-yum! You probably saw us come home with cute Johnny Appleseed pot hats too!
October begins our study of all things Halloween, spiders, bats, and pumpkins. We will begin next week with spiders.
Math has us learning subtraction strategies this week and next. We have also been regularly incorporating Mountain Math a few times a week and the kids have really taken to it.
We finished up last week with a special performance of Pinocchio. Live Theatre Workshop came to St. Michael's and shared their wonderfully original performance of Pinocchio complete with singing, amazing masks and a question and answer time at the end. Thanks to Ms. Allen for inviting them to school.
Wednesday, you will find a progress report in your child's Eagle Express folder. Progress reports are meant to give you a glimpse of where your child is at this point in the school year. If you have any questions about progress reports, please don't hesitate to ask. 🙂
Important Dates: Mon-Fri. 10/7-11-No School-Fall Break; Fri. 10/18-Grandparents Day; Thurs. 10/24 Pumpkin Day; Thurs. 10/31 Halloween Party in the park,