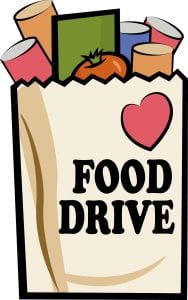 Just a reminder that our canned food drive comes to a close this Monday.  We'd love to have participation from all of our kiddos, so please share what you can and thank you!
This week was all about turkeys.  We kicked off the week reading, A turkey for Thanksgiving, as sweet story about a turkey who is grateful to be included at the dinner and not as the dinner!  We also did a fun little word search to go with it which really helps us practice spelling and using our good "eagle eyes."  We also read, Thanks for Thanksgiving.  This is a precious little story that lists all kinds of things the author is thankful for.  We did a writing assignment to go along with this, and you'll see those up on the line next week.  The kids did a very nice job on this, and you'll love reading about the things for which they are thankful!
In math, we are wrapping up our work with polygons.  We have identified, classified, sorted them into groups, and drawn them ourselves.  It's been a very hands-on section in our book and the kids are getting some great vocabulary, as well.
Our Social Studies unit is of course all about our Wampanoag board.  It will be up next week for you to enjoy, and you will be able to see all of our great work.  We wrote about our jobs in the tribe, and drew all the little details this week (corn and pumpkins for the farmers, fish for the ocean and river, and lots of animals!) It's been really fun to work on this as a mixed group of first graders and the kids have done a great job.
Upcoming events: 11/25-FINAL DAY for the Canned Food Drive for St. Michael's Pantry and Community Food Bank;
Wed-Fri. 11/27-11/29-No School-Thanksgiving Break;
Friday, 12/6-Special St. Nicholas surprise!
Fri.12/13-St. Nicholas Program-2:00 p.m. in the gym
Wed. 12/18-1st grade Nativity Program-in the church
Fri. 12/20-1/2 day-noon dismissal (no aftercare) Christmas break kickoff