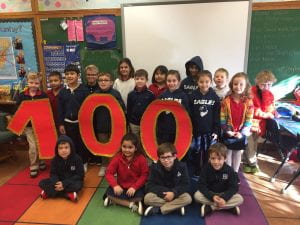 We did it! We hit a huge milestone last week, as we enjoyed the 100th day of school! (We even took two days to celebrate!)
We kicked off the week talking about Chinese New Year.  This year is the year of the Rat.  We learned that many of us were born in the year of the snake or the dragon. We watched a cute puppet show on video that showed an idea on how the animals were selected to be on the calendar, and then made our own calendars.  We also played with tangrams which are fun and challenging! We used 7 pieces to make lots of shapes including a very challenging square!
Next, we kicked off our unit on penguins.  We were all assigned a penguin to study, and began researching what our penguins eat, where they live, and interesting facts about these awesome animals.  We are learning a lot about how to find and organize information.  We will be presenting our "expert" information to our classmates next week to practice presenting. 🙂
In math, we are just beginning to work on measurement (using both non-standard, and standard tools.)  This kicks off with concepts of larger than/smaller than.  We are also wrapping up our study of time for a bit (well done 1st graders!) and moving to place value.  This is great timing as we have moved into numbers in the 100's place on our calendar, too.  We'll keep that up until the break.
Friday was definitely the highlight of our week.  We kicked off our 100th day celebration early by doing some rotations with the Kindergartners, and enjoying stacking 100 cups, making hats with 100 dots, using 100 stickers and 100 licks on a lollipop. So fun! Then on Friday we enjoyed a snack with 100 pieces,  wrote what we'd be like at 100 years old (and added a wonderful photo!) and did lots of math using 100–tally marks, cents, skip counting, coin flipping and more! it was a really fun day! 🙂
This week we'll be talking about Groundhog Day, wrapping up our penguin study, preparing for STEM night, and heading to the Fox Theater to see Miss Nelson has a field day.  Happy February!!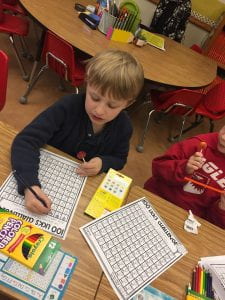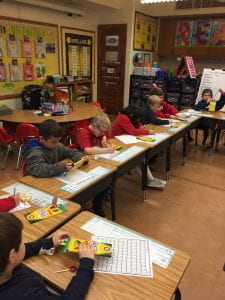 How many licks does it take?  About 100!! 🙂
Important Dates:
Fri., Feb 7th-K-4 Students travel by bus to see, Miss Nelson has a field day!, Fri., Feb 7th-STEM Night; Fri., Feb 14th-Valentine's Day Card Exchange/special snack, M-F, Feb 17-21-No School-Rodeo Break., Tues., Feb 25th-Fat Tuesday/Mardi Gras, Wed., Feb 26th-Ash Wednesday