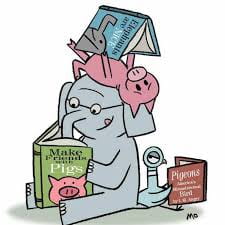 We loved studying the work of author, Mo Willems this week.  We had so many great books to read!
We kicked off the week reading, Amanda and her Alligator.  We did some comprehension work, and even made our own "thinking caps!"  Next we read, Knuffle Bunny and did a writing piece about something very special to us.  These went along with our artwork out on the line which was inspired, of course, by the art in the book.  We read, Don't let the Pigeon Drive the Bus, and did our own class book and a writing piece about something we REALLY want to do (but can't yet!) . Look for these up in our classrooms!  We also read as many Elephant & Piggie books as we could squeeze in, and a few more Pigeon books, too!  We love Mo Willems!
In Math, we are working on measuring accurately and comparing by identifying "how much longer" or "how much shorter."  We are also busy adding 2-digit numbers to prepare us for working with re-grouping next week.  This will kick off a few weeks of practice adding and subtracting with regrouping.  Since this is a new concept for our kiddos, we'll be practicing in class and also sending it for homework.  Please help us patiently learn this new concept, but also let us know if your child seems to really struggle.  Our goal is to learn this slowly, and practice often, so that it is retained! 🙂
Next week is LOVE of READING week which is highlighted by the Book Fair coming to campus!  (Doors open for students on Tuesday and will stay open before and after school all week.)  We will be greeted by Wilbur & Wilma Wildcat at all school chapel on Monday to kick off our week.  *We will also be collecting gently used or new books for the Angel Heart Pajama Project, a non-profit group that provide pajamas and books for children in need. Your donations are greatly appreciated. First graders will be enjoying Dr. Seuss books all week and celebrating his birthday on Monday!
Upcoming events:
Book Fair, Tues.-Fri., 3/3-3/6;  Author Jennifer Stewart visits K-2 from 1:30-2:00–Book signing available, Pajama day-Friday, 3/6;
Have a wonderful week!