Enjoy the day to celebrate the great work of Dr. Martin Luther King, Jr.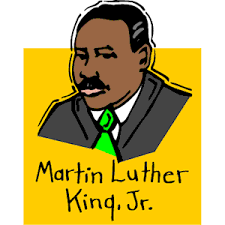 We had "snow" much fun in first grade this week! 🙂
We did tons of writing and work this week with The Mitten, The Little Snowflake, and Snowmen at Night.  We started talking about all of the animals and verbs in The Mitten. Then we made our own mittens and estimated how many cubes would fit inside them as a math add-on.  We also wrote a "how to" using words like first, next, then and last to tell "how to catch a snowflake."  We added a cute self portrait of ourselves in oil pastel to go with our writing which we hope you saw on the line.  And we finished our snow study with a creative piece, "If I were a snowman at night…"  These, along with a very cool torn paper art piece, are up on our lines outside.
On Friday, we did got a chance to read about and see a BrainPop on Dr. Martin Luther King, Jr. We had an opportunity to re-tell three facts we learned about his life and good work, and draw a portrait that we hope you'll take time to see up in our classrooms.
In math, we were busy working on mystery numbers (this is an exercise in learning to ask good questions which help us to get closer to the answer.) We also worked on ways to make numbers like 10 and 12 and equations that go with each combination.  We also worked on learning our coins/values.  Mountain math was our wrap up of the week with all the concepts of 1st grade math.
Next week is a 4-day week, but we will fill it up with Arctic animals! We'll be talking about Polar Bears, walruses, arctic foxes, and snowy owls.  We are looking forward to it.
Upcoming dates:
January 24-26-school musical, Into the Woods–be sure to get your tickets this week!
Thur., Jan. 30th-100th day of School
Fri., Feb 7th-STEM Night
Fri., Feb 14th-Valentine's Day Card Exchange/special snack
M-F, Feb 17-21-No School-Rodeo Break.